Why Crosswalk Painting?
Our Lansing neighborhoods are full of friendly folks, flower gardens, and cars. I sometimes feel overwhelmed by the speed that vehicles travel along my street. I love walking around with my family, friends, and neighbors to the library, to the community garden, to the coffee shop and I want to feel safe doing this simple activity.
The aim of the crosswalk painting projects is to increase joy while using the sidewalks and slow traffic on the roads. Playful imagery at common intersections brings people out of the commonplace. Walking across the colorful crosswalks empower pedestrians with a sense of belonging while slowing down vehicles.
Neighbor Testimonials
We have heard a lot of great feedback from residents who live near the crosswalks. Here are some comments from social media posts:
"I love these! They brighten my day every time I see them!" (Facebook user)
"They are beautiful!! I love seeing them on my travels!" (Facebook user)
"I love these! They always make me happy that I live in our neighborhood!" (Facebook user)
"I drove over this today and was delighted to encounter it! This should be a trend around the city!" (Facebook user)
"I definitely would love to see this at more intersections. It's so cool and fun!" (Facebook user)
"The painting looks cool, and has the additional benefit of tending to cause drivers to slow down through intersections." (Facebook user)
"A wonderful thing to see! We need more of these!" (Facebook user)
"Fantastic! I was pleasantly surprised by this the other day. Thank you for this colorful addition to the neighborhood." (Instagram user)
Upcoming Project
October, 2022: The intersection of Ferguson and Jerome in the Eastfield neighborhood. This project will be funded by a local citizen.
Past Projects
Marcus St and S Foster Ave, 2022
Garden veggeis, flowers, bugs, and sun and rain. Project sponsored by the Lansing Greater Food Bank Garden Project.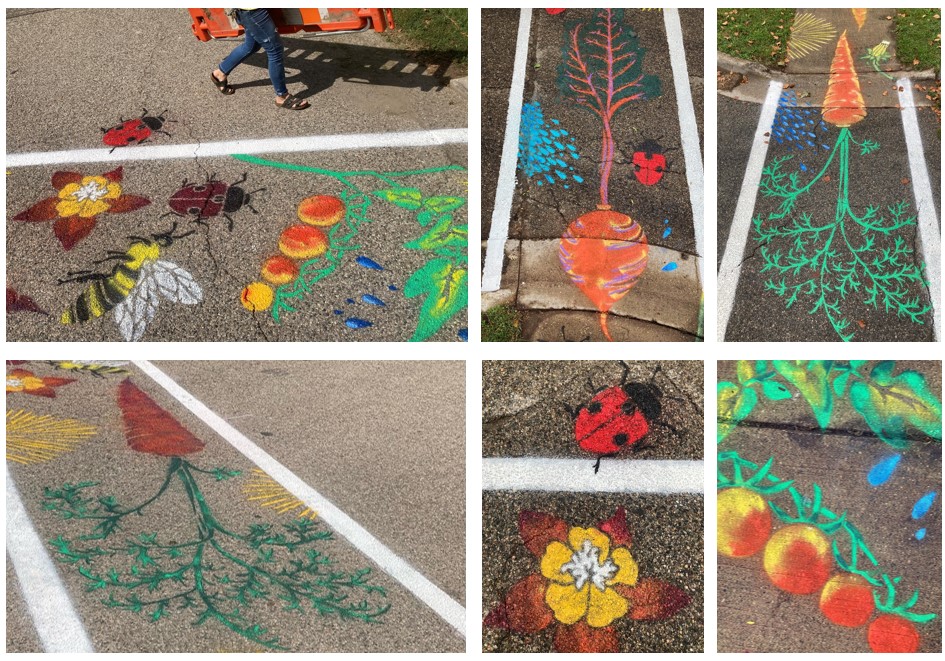 N. Clemens and Jerome, Vine, and Fernwood, 2022
Local flowers, including, dandelion, white clover, bleeding heart, violet, columbine, day lily, and lily of the valley painted with various spray paint.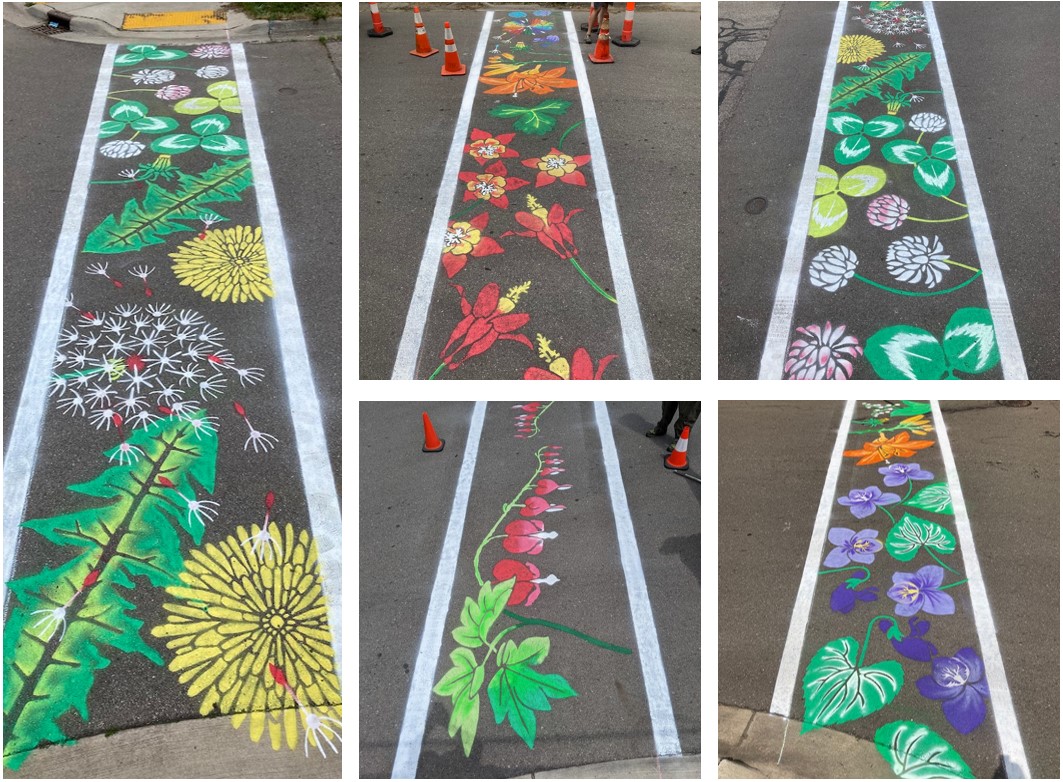 Magnolia and Vine, 2021
Scale design painted with Pro-Park Sherwin Williams paint.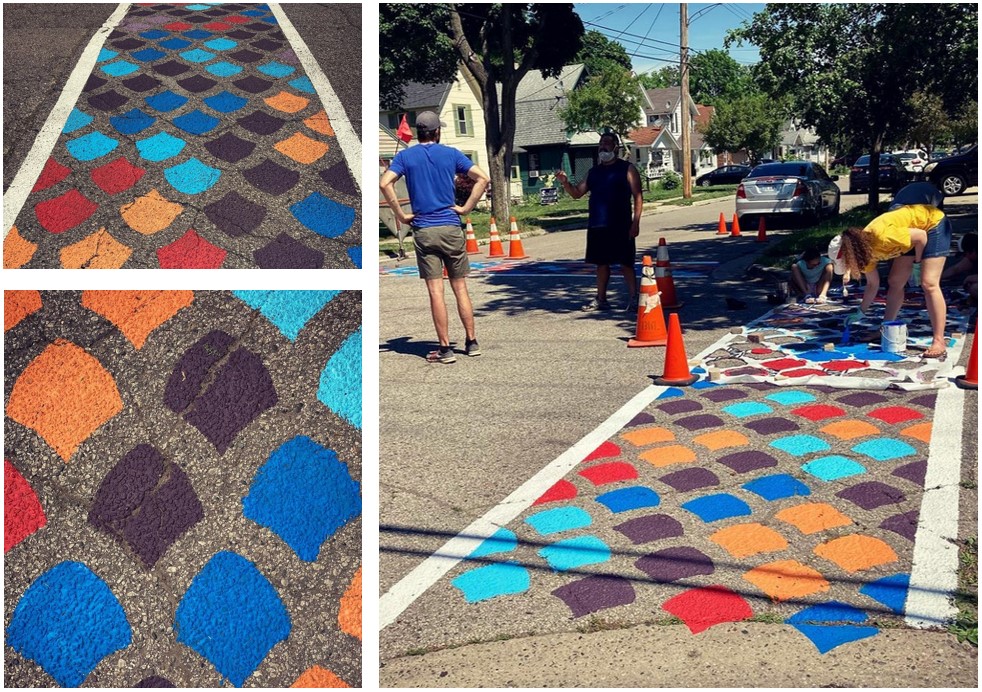 Hayford and Vine, 2021
Confetti design painted with Pro-Park Sherwin Williams paint.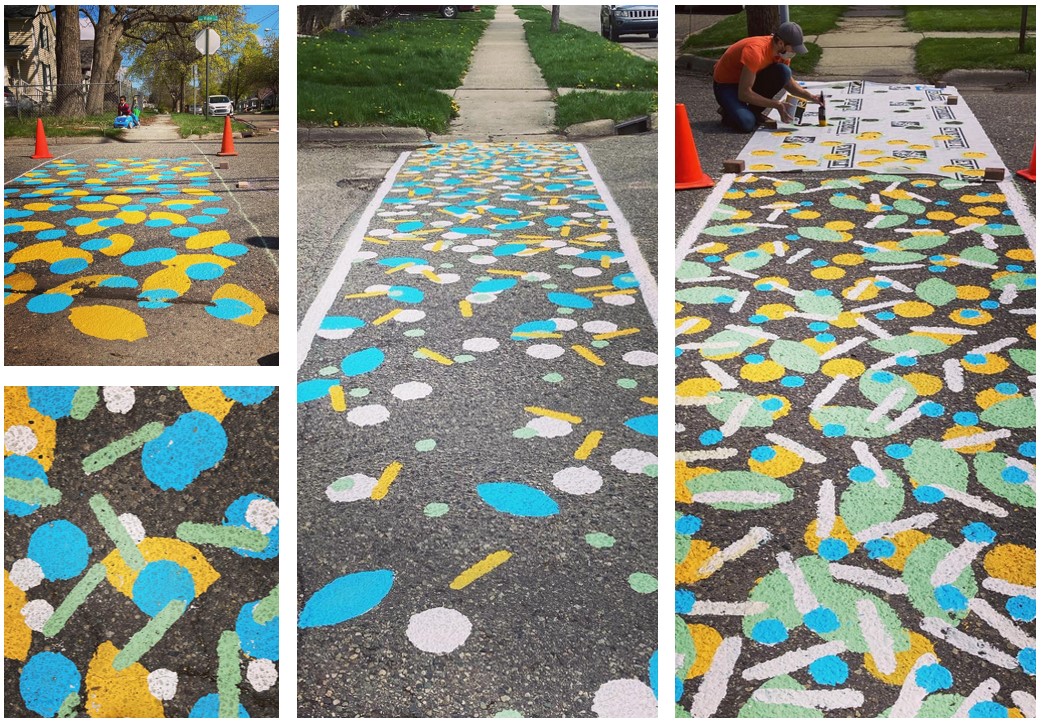 Grant money funding these projects
Arts Council of Greater Lansing - Mini Pocket Grants for Art 2021 and 2022, $500 each year.
FAQs
Who's doing this?
I'm the organizer of the projects listed above, my name is Jill Dombrowski. I moved to Lansing in the mid 2010's and have enjoyed raising my family here. I have a visual arts background with education in drawing and printmaking. With these projects I's aiming to "be the change I want to see in the world". I've coordinated volunteers to help with past painting projects. I try to have 15 volunteers per project.
There have been other crosswalk painting projects recently in Lansing, like rainbow crosswalks in Old Town and Downtown, and the Black Lives Matter painting in front of the capitol, I am not sure who is responsible for these projects.
Who's paying for this?
The projects have been funded by sponsoring organizations or by grants through the Arts Council of Greater Lansing. No taxpayer money has been used to fund these projects. The cost for materials is about $100 for a single crossing, but mainly depends on the density of the painted surface.
How is it done?
We decide on a location, date, and design. In the past we have tried painting with road quality paint and spray paint. Depending on the paint material, large scale templates are made from house wrap for regular paint or cardboard for spray paint. Materials are purchased. On the day of the painting we prepare the road surface by sweeping out loose dirt and debris. We measure out a six-foot width for the crosswalks and use a chalk line to mark straight lines. The main white lines are always painted per the City Public Services office instructions. One side of the crosswalk is painted at a time to allow traffic to continue through the intersection during painting. Once the paint is dry we switch sides. High fives all around at the end of the project.
Is the city ok with this?
Yes. We coordinate all our locations and designs with the head of public services for the city of Lansing.
How do I get one on my street?
How do I get on the volunteer list?
How do I propose a design?
Please use the contact form below.
Contact
Would you like the crosswalks near your home or business painted? Do you have a design idea? We'll work with you to make it happen!
Contact us
Other Resources and Street Art Projects
Asphalt Art Initiative by Bloomberg Philanthropies
Montreal, Canada based artist Roadsworth
"Art painted on crosswalks makes streets safer, group says" The Washington Post, June 8, 2022